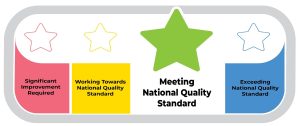 This access anytime webinar will look at how we can manage our stress & anxiety leading up and during the Assessment & Rating visit. We will look at some the things that may occur on the day, questions you may be asked, along with how you can feel confident in showcasing your practices.
Webinar duration time: 40 mins
Expected completion time: 1 – 1.5 hour
Note: This is a per person price. Use discount code EDUCATOR15 for 15% off the total when you have 4 or more items in your cart.